Hilton Hotels & Resorts is launching its 5th annual points sale promotion for 2022. Buy Hilton HHonors points through this promotion and receive up to 100 percent bonus points, equivalent to buy one get one free.
This promotion is targeted, and you may be targeted to 80% or 100% rewards. If targeted to 100% bonus, you can get it just in time; if targeted to 80% bonus, we recommend waiting for the next one.
Promotion Period: Ends 2022-9-19 11:59:59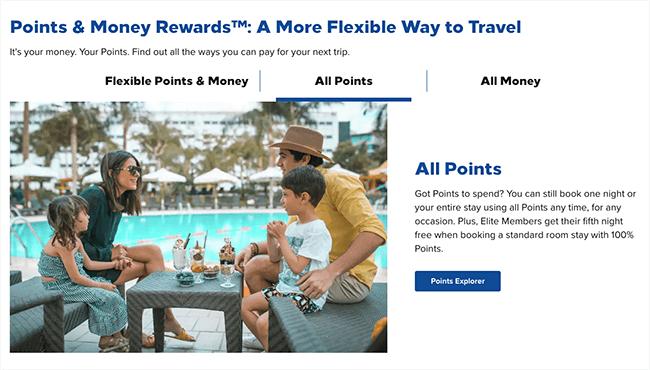 Buy points cost and redemption cost
Buy 5,000 points or more to get an extra 100% bonus. The maximum number of points you can buy is 80,000 points, and you will get an additional 100% bonus, for a total of 160,000 points, for $800.
Cost: $800 ÷ 160,000 points × 1,000 = $5/thousand points.
Hilton Selling Points Promotion: Share an additional maximum of 100% bonus on Hilton HHonors points purchased through the website (by 2022-9-19)
Global hotel points redeemed for a minimum of 5,000 points per night cost: $5/1000 points × 5 = $25/night.
Hilton China hotels currently require a minimum of 10,000 points and the cost to buy points for redemption is $50/night.
Once you calculate the redemption cost, you can compare the cash price with the cost of buying points when booking a hotel to know if it is worth buying points for a room.
Why buy points for free rooms
First of all, points rooms have some benefits as follows.

No tax and service fees

Free cancellation (usually can be canceled one day in advance and points returned in the same way)

Premium membership benefits remain valid, and the room nights can also be accumulated

Stay 4 get 1 free (Silver or above members can redeem 5 free nights and get every 5th night free, which means you only need to pay 4 nights of points for booking 5 nights)

Besides the above benefits, the most critical purpose of buying room points is to save money!
At some Hilton hotels, the cost of buying points for a room is lower than the cost of a paid reservation, and some hotels are even cheaper than half the price. Usually, these hotels are concentrated in inexpensive low-end hotels or expensive luxury hotels.
What hotels are worth buying points for
Low-end hotels

One of the most common uses of Hilton points is to redeem 5,000 and 10,000 points for hotels, as there are some hotels where the cost of points is more cost-effective than the cost of cash.
These hotels are generally concentrated in three brands: Hilton Garden Inn, Hampton by Hilton, and DoubleTree by Hilton.
There are only about 20 hotels with 5,000 points left worldwide, mainly in Turkey and the rest in a few non-mainstream countries. In China, the 5,000-point hotels are extinct, while there are still some 10,000-point hotels.
High-end hotels
Hilton points can also be redeemed for certain high-end hotels at an excellent price, such as many island resorts, Maldives, Bora Bora, etc., especially during the peak tourist season.
For example, at the Conrad Hotels & Resorts Maldives, the minimum price for a 5-night stay at the Beach Villa in November is $826/night, and the redemption points are 95,000 points/night.
Paid booking cost: $826 × 5 nights = $4,130 (before tax), $5,121 after tax.
Points redemption cost (stay 4 get 1 free): 95,000 points × 4 nights × $5/thousand points ÷ 1,000 = $1,900.
This is a savings of over $3,000 on the cost of points redemption, over the cost of payment, equivalent to a 3.7% discount.
During peak travel season
During peak travel seasons, such as National Day, Christmas, and New Year's Day, when many hotel rates go up like crazy, you should pay particular attention. Some hotels have the same redemption points as usual and do not increase.
How to use points for free room
Hilton points are redeemed in the form of "points + cash," also known as "points + money purchase" you can freely adjust the ratio of points and cash, but the points part needs at least 5,000 points to start.
Beginning in 2018, Hilton eliminated the hotel tier system and stopped issuing points redemption tables, and hotel redemption scores will fluctuate up and down based on low and high seasons.
You can check the historical minimum and maximum redemption scores for each hotel through the Hilton online search tool provided by Hilton.
Redeeming points for a free room is easy, and students unfamiliar with the specific steps can refer to this article.
Since it is now a floating point redemption policy, remember to check the exact score of the hotel you intend to book at the time of the actual stay date before buying points.
Reminds you
Registered members with more than 90 days or more than 30 days with one stay can buy points. New members cannot purchase points. So if you haven't registered an account yet, we suggest you write one. If you need to buy points urgently, try this method: after registering for more than 30 days, book a random order that can be canceled, and then cancel the order after the purchase is successful.

Each account can only buy up to 80,000 points per year; a 100% bonus is 160,000 points. If the points are insufficient, you can use your family's information to register multiple accounts to buy points and then aggregate them into one bill through the points pool. Each account can transfer up to 500,000 points and receive up to 2 million points annually.

If there are no technical problems, the purchased points will be credited to the member's account immediately and no later than 48 hours.

Hilton has a precious policy that points rooms can also participate in points rewards activities. So don't forget to register for Hilton's latest rewards program before you book a room after you purchase points. However, there is one thing that points rooms cannot do if the rewards are based on multipliers.

Hilton points are valid for 24 months. Any change in the number of points (increase/decrease) will automatically extend the validity period by 24 months.

Purchased points are not considered tiered points and cannot be used for upgrades or upgrades to the HHonors Club membership.

Hilton points can be redeemed for free rooms, concerts, and events through auctions. Please refer to this article for details.

Hilton usually offers a point sale every 1 to 2 months, each lasting for about 1 month. The lowest price is a buy one get one free (100% bonus) or a 50% off sale at $5/1000 points.

Some Hilton members may be targeted to increase their purchase limit to 160,000 points per sale, for a total of up to 320,000 points with rewards.

Hilton's points sales service is offered through our partner Points.com, which can be found in this article.

The purchase of Hilton points is part of online overseas shopping, and some credit cards often offer cashback activities for overseas investments, so don't forget to use them if you can.