Waldorf Astoria Hotels and Resorts, the premier luxury brand of Hilton Hotels and Resorts, has entered the Maldives with the official opening of Waldorf Astoria Maldives Ithaafushi on 1 July 2019. Waldorf Astoria Maldives Ithaafushi
Waldorf Astoria Maldives Ithaafushi is located in South Male Atoll, a 30-minute speedboat ride from Male Airport. The resort features 138 all-villa rooms, including beach houses, overwater houses, and suites, each with private outdoor pools, Jacuzzis, and lounges and decorated with the same thatched-roof look that characterized the Maldives. The cheapest beach house is 234 square meters. The Water Houses have glass floors and offer a fantastic view of the lagoon below.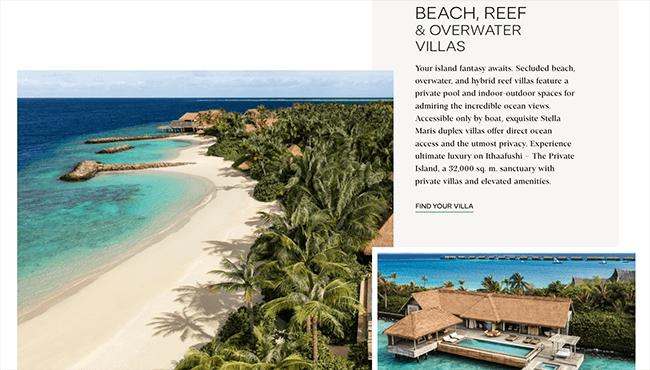 Interestingly, Conrad's first underwater restaurant on the same Maldives island is Ithaa, which means pearl in the local language. The island where the Waldorf is located is called Ithaafushi, which should also mean pearl, so I wonder if it will be called "Pearl Island" in the future.
I believe we are curious, a top brand of Hilton hotel opened in the world's leading tourist resort, how expensive the room rate should be. The Hilton official website has accepted reservations for the stay; you can check to know.
Waldorf Astoria Maldives Ithaafushi Island official website:
https://waldorfastoria3.hilton.com/en/hotels/maldives/waldorf-astoria-maldives-ithaafushi-MLEONWA/index.html
After checking, the lowest price in the low season is about $1,689 per night, and the price in the high season is generally more than $2,000, and even up to $3,000 for Christmas and New Year holidays. The cost is prohibitive.
At this point, regular followers of my blog will recall that I previously introduced Hilton's first Hotel in the Maldives: the Conrad Maldives at Conrad Island. The points room is 95,000 points per night, and the cost is $475 ($5/thousand points bought). Before the opening of the Waldorf Astoria Maldives, this score was already the highest points redemption score for any Hilton-owned hotel.
So how many points does it take to redeem with points at the Waldorf Astoria? The official website is now open for reservations and only one room type, the king beach villa with pool, is currently available for redemption at 120,000 points per night.
Cash price: $1,689 USD, the cost of the room with points is: 120 × 5 = $600 USD. Once again, the power of Hilton points is evident, as the cost of a points room is only about a third of the cash cost. And that's before you factor in the 10% tax on the cash rate and the 5-for-1 stay on points rooms.
Given that point, room costs are cheaper than the cash rate, and it's unrealistic to adjust the cash rate downward. Hilton may not keep these points room to score. This is probably just a sales tactic for new openings. If you want a "double top experience of the world's top resort + the world's top hotel," now is an excellent opportunity to start planning your trip to Waldorf Astoria Maldives.
Waldorf Astoria Maldives Ithaafushi Hotel Introduction
Waldorf Astoria Maldives is located in South Male Atoll, not far southwest of Male', on a lagoon with a peculiar shape.
The resort's islands are planned by reclamation, mainly consisting of two large islands and one small island. The islands are connected by trestle bridges, as Conrad Harbour Island is famous for its two islands on one bridge, and Waldorf is entirely unlike any other.
Five types of rooms
Ithaafushi Private Island (Royal Villas)

Stella Maris Duplex Villa (Romantic Oasis)

Overwater Villa

Beach Villa

Reef Villa (Garden Villa)
Eight restaurants
Ithaafushi Island has eight restaurants of various kinds to choose from. Even Chinese cuisine, such as authentic Peking duck, is available.
Glow - offering the freshest healthy cuisine

Poolside dining at The Ledge for light fare and grills

Enjoy the signature Peking duck and other classics at Li Long Chinese restaurant

Styled after an Arabian village, Yasmeen restaurant serves authentic Middle Eastern dishes

Tangled - showcases noodles from every region

The Rock - Pairing wines from around the world and intimate dining

Terra - Exterior

Tasting Table - Interior
Hilton Romantic wedding
Love stories unfold in the tropical paradise of the Maldives. You can choose from various romantic wedding venues - water wedding pavilions, private islands, and white sandy beaches - making Waldorf Astoria the ideal destination for weddings and special celebrations. Indulge in your celebration while professional wedding experts attend to every detail.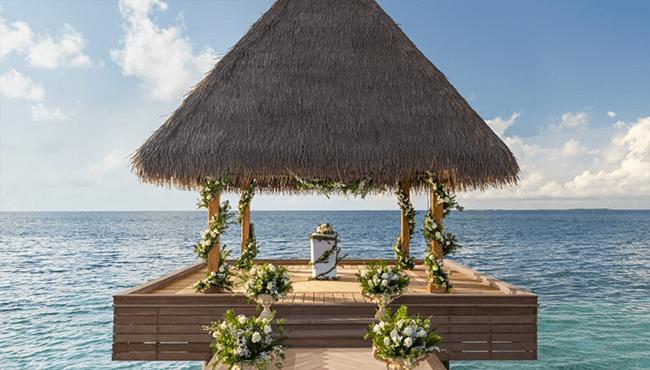 Ready for your trip to the Maldives for a double-top experience? The official website is already accepting bookings, so don't forget to redeem your points for the best savings, and you can buy points if you don't have enough.