Hilton's long-standing Status Match campaign has gone through several updates. At one time, the challenge was calculated on a stay basis, with 4 stays completed within 90 days of registration to upgrade to Gold and 8 stays completed to upgrade to Diamond.
This has since been changed to a nightly basis, which has increased the task's difficulty. And the cost of the challenge to some extent.
The current challenge task is adjusted as follows: 7 nights for the Gold Card challenge; 12 nights for the Diamond Card challenge.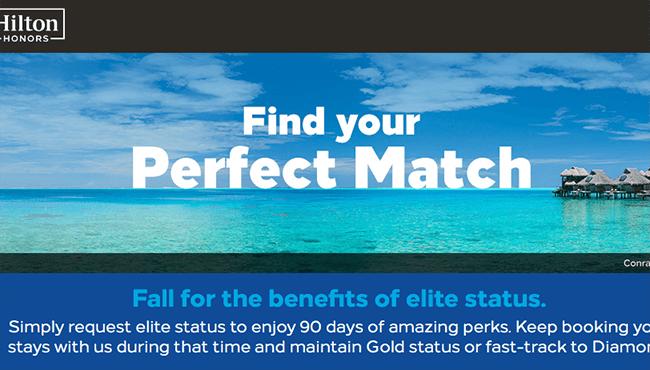 The membership obtained after completing the challenge is valid until March 31, 2024. If you apply for the challenge now (2022-1-7), you can hold a premium membership with Hilton for up to 2+ years.
Whiteboard or Silver members can apply if you have never applied for Status Match before. Existing Gold or Diamond members cannot use it. Each member can only apply once per lifetime.
You may like our other article Www.Hilton.com/Go Family And Friends.
What Is Hilton Status Match
Status Match directly translates to "Status Match". It means that when you already have an elite membership in Group A, you can apply for the "Status Match" service provided by Group B to obtain the membership of the corresponding level in Group B. With Status Match, you do not need to accumulate enough room nights or points to qualify for a premium membership.
When Hilton opened Status Match a few years ago, it was available to everyone who submitted a valid third-party group premium membership profile. And it didn't require you to complete a challenge, so getting a Hilton Gold or Diamond card was zero cost. But now it's different. It's probably better to call it "Status Challenge" because you must complete the challenge within 90 days of signing up for it to get the upgrade.
It seems that among the major hotel groups, only Hilton has a long-term open Status Match. Other hotel groups seem to be less interested in this. One of the benefits of Hilton Status Match is that you get Gold status during the 90-day challenge period. If you need to stay at a Hilton hotel for a short period for some reason, then apply for the challenge, and you will immediately receive the Gold Card benefits.
Apply For The Status Match
You must fill out the form and submit your information through the official Hilton application address below, and wait for customer service to approve it before you can qualify for the challenge.
Application address.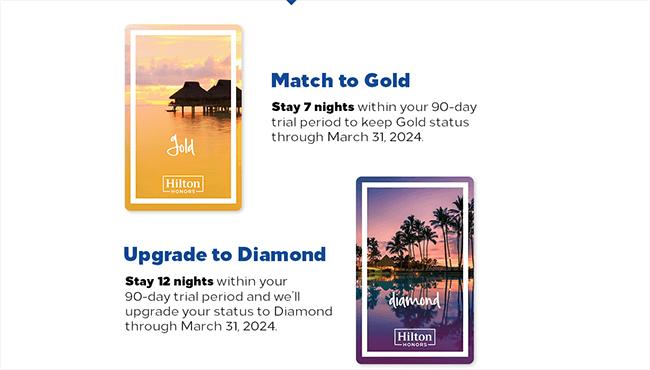 https://www.hiltonhonors.com/en_US/status-match/landing/
It is not difficult to fill out the form. You must provide your name, email address, and Hilton Honors membership account. If you don't already have an account, sign up for a new one.
Register address
https://www.hilton.com/en/hilton-honors/join/
The most critical aspect of Status Match is that you must submit elite membership information from eligible third-party hotel groups. Current third-party hotel group membership programs that Hilton states it supports include
Choice Privileges (Diamond)

World of Hyatt (Adventurer and above)

IHG Rewards Club (Gold and above)

Marriott Bonvoy (Gold and above)

Best Western Rewards (Diamond and above)
According to the terms and conditions, only the hotel groups listed above can apply for Status Match. However, other hotel groups can still submit applications, but their chances of being approved may be lower.
Note: Unlike before, you can only match to Gold (90 days validity), but not directly to Diamond. In other words, you can only enjoy the Gold status during the challenge period and the Diamond status only after completing the challenge.
When filling out the form, you will need to submit two copies of the information, and you must upload it as a .jpg or .png file.

One is proof of the third-party hotel group membership level.
One for your stays with the third-party hotel group within the last 24 months.
You only need to provide a screenshot in .jpg or .png format. Or take a picture with you. Suppose you don't know how to take screenshots. If you are concerned about privacy, you can erase all information except your name and membership number. Hilton does not have access to the membership database of third-party hotel groups, so there is no way to compare the authenticity of the information. This gives a lot of people room to falsify.
After submitting your application, you will usually get an email response from customer service in about 7 - 12 business days. The email will state that you have been eligible for the Gold Card for 90 days and that you can complete the challenge before the expiration date to receive the official upgrade.
Challenging The Status Match Tasks
You can do the task immediately after your application is approved. As already mentioned, the charge is now much more complex than before. But this is only for some people who are challenged for the sake of a challenge. For some people who need it, for example, a business trip party, a business trip may live a 10 days 8 days, tonight to calculate the task will be easier and more convenient, but also do not have to cut stay and worry.
Hilton strategy: Hilton Status Match task update, gold card challenge 7 nights, diamond card challenge 12 nights.
Gold Challenge: 7 nights in 90 days

Diamond card challenge: 12 nights in 90 days
Although the cost of the challenge is higher than before, compared to the normal upgrade conditions is still very cost-effective. Normal relegation/upgrade conditions.
Gold: Complete 20 stays in a calendar year, 40 nights in a calendar year, or earn 75,000 Hilton HHonors base points in a calendar year.

Diamond: Complete 30 stays in a calendar year, 60 nights in a calendar year, or earn 120,000 Hilton HHonors base points in a calendar year.
One note: Hilton Status Match points rooms used to count as good stays but no longer do.
Don't forget to check out what offers are available before you do the task to reduce the challenge's cost further. Please refer to this article for more information on Hilton's recent activities.
Hilton Promotions, Points Awards, Mileage Awards, Points Sales Promotions, Membership Policies - 2022
After completing the challenge, it usually takes about one week to get the official upgrade.
The Gold Card, Diamond Card Treatment
Hilton's gold card is perfect, including complimentary breakfast, extra 80% bonus points, free room upgrade, etc.
The difference between Diamond and Gold is not too much, and the main difference is that the Gold card can only upgrade to executive rooms, while the Diamond card can upgrade to suites. The Diamond Card allows you to use the Executive Lounge regardless of room type, while the Gold Card can only be used when upgrading to an Executive Room. In some hotels, Gold cards require a choice between breakfast and bonus points, while Diamond cards can have both.
If not necessary, the Gold card is sufficient for daily use and reduces the cost of future upgrades.
You can find the detailed treatment of Hilton Gold and Diamond cards on the following website.
https://www.hilton.com/en/hilton-honors/member-benefits/
Other Fast Upgrade Channels
In addition to Status Match, Hilton has some other fast upgrade channels, including
MVP Fast Track, 4 stays to upgrade to Gold

Fast Track for company employees, 4 nights to Gold, 8 nights to Diamond
Unlike Status Match, these fast tracks are only eligible for Silver during the challenge period.
Conclusion
Now that Status Match is calculated on a nightly basis, the difficulty level has increased, and the number of Hilton Elite members is expected to drop somewhat. But from another point of view, it may not be a good thing, and it means that the gold value of Hilton Elite membership has increased.
Think about the overcrowding in the executive lounge in the days of rhinestones and the inevitable decline in service quality. It's also relatively unfair to those who live out the real Hilton fans, and there is even a risk of de-fans.
Finally, there is a problem. Some people may not be able to open the application page or fill out the form but can not submit, may see a prompt: You must pass the Recaptcha. This is because Hilton requires you to "authenticate" yourself to prevent malicious submissions by machine.
FAQ

1. What is the Hilton Honors Status Match benefit?
This is an exclusive benefit for Hilton Honors members who would like to experience elite status and get the chance to accelerate their tier progression.
2. What do I have to do to receive a Hilton Honors Status Match?
Submit your program and stay proof of another competitor's loyalty program. Evidence of a stay must be from within the last 24 months

Once approved for Status Match, we will upgrade your status to Gold for 90 days

Stay a minimum of 7 nights within your 90 day trial period, and we'll upgrade your status to Gold

Even better: if you complete an additional 5 nights (12 nights total) within your 90 day trial period, we'll upgrade your status to Diamond
3. Who is eligible for Status Match?
Members currently at Base or Silver-tier have not previously enrolled in Status Match.